It Just Sounds Like Texas In Here!
An Acre of Dancin' and Glancin' at Thousand Oaks & Nacogdoches in San Antonio.
Over 25,000 square feet continue to be enjoyed by young and old alike – as country music and a patented race track dance floor transcend all age groups in appeal.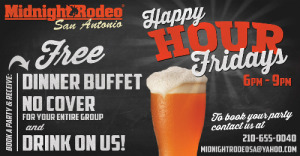 LOCATION:
12260 Nacogdoches Rd,
San Antonio, TX 78217
(210) 655-0040
HOURS:
MON CLOSED
TUES CLOSED
WED 8:00pm – 2:00am
THURS 8:00pm – 2:00am
FRI 6:00pm – 2:00am
SAT 8:00pm – 2:00am
SUN 10:00pm – 2:00am