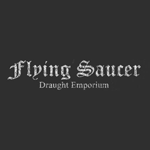 Flying Saucer Draught Emporium founded in 1995. Offers a wide variety of imported and domestic quality craft beers, and a full pub menu.
Location:
11255 Huebner Rd #212,
San Antonio, TX 78230
(210) 696-5080
Hours of Operation:
Mon-Thurs: 11am-1am
Fri-Sat: 11am-2am
Sun: 12pm-12am
Minors are welcome only before 9:00 PM and when accompanied by a parent. After 9:00 PM, minors are not permitted.