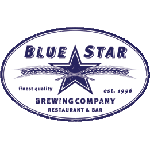 The Blue Star Brewing Company opened in 1996 and is located at the beginning of the Mission Reach, a major bike-friendly and pedestrian friendly thoroughfare to the city's cultural and historical features that runs along the San Antonio River.
This eclectic craft brewery and restaurant is a central watering hole and activity hub for locals and hundreds of thousands of visitors each year. The craft beer made on premise, and elevated pub food, are served six days a week using fresh and locally raised and grown ingredients. Owner, Joey Villarreal and his wife, Magdalena have fostered a strong bond with their community, elevating their classic pub dishes through their alliance with local farmers. The food is made with quality ingredients prepared simply. Blue Star Brewing Company's Friendly neighborhood atmosphere is rivaled only by the quality food and beer it serves. Weekly live bands and entertainment, Spurs shuttle, late-night shows, group bike rides, and countless other community events have made this unique restaurant and brewery a destination location for locals and tourists, alike.
Location:
In The Blue Star Arts Complex
1414 South Alamo #105
San Antonio, TX 78210
(210) 212-5506
(866) 813-5506
Hours Of Operation
Monday
Bar: 11 a.m. – 7 p.m.
Kitchen: 11 a.m. – 3 p.m.
Tuesdays – Thursdays
Bar: 11 a.m. – 11 p.m.
Kitchen: 11 a.m. – 9:50 p.m.
Fridays – Saturdays
Bar: 11 a.m. – 12 a.m.
Kitchen: 11 a.m. – 10:50 p.m.
Sundays:
Bar: 11 a.m. – 3 p.m.
Kitchen: 11 a.m. – 2:50 p.m.